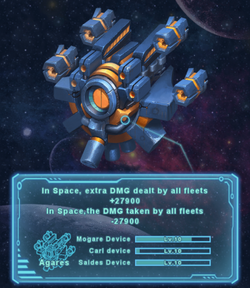 Satellites are used in Space, but also found in Mazes. The ones found in mazes are not obtainable however, and will be hostile.
The only friendly satellite so far is found in Space/M01, Agares.
Effect:
In Space Extra DMG dealt by all fleets +X, DMG taken by all fleets -X



Each Eden resource has it's own level, and the total effect of all three is shown in your satellite page. No max level is known yet.
| Level | Resource Cost | Effect |
| --- | --- | --- |
| 1 | Initial | 300 |
| 2 | 3.600 | 900 |
| 3 | 10.800 | 1.500 |
| 4 | 21.600 | 2.400 |
| 5 | 36.000 | 3.300 |
| 6 | 54.000 | 4.200 |
| 7 | 75.600 | 5.400 |
| 8 | 100.800 | 6.600 |
| 9 | 129.600 | 8.100 |
| 10 | 162.000 | 9.300 |
| 11 | 198.000 | 10.800 |
| 12 | 237.600 | 12.300 |
| 13 | 280.800 | 13.800 |
| 14 | 327.600 | 15.600 |
| 15 | 378.000 | |
| 16 | | |
| 17 | | 21.000 |
| 18 | 550.800 | 22.800 |
| 19 | 615.600 | 24.600 |
| 20 | 684.000 | |
| 21 | | |
| 22 | | 30.900 |
| 23 | 910.800 | |
| 24 | | |
| 25 | | |
| 26 | | |
| 27 | | |
| 28 | | |
| 29 | | |
| 30 | | |